I'm hellbent on saving family farms. Watch and learn why this workshop matters . . .
This workshop will help your farm family STOP
being stubborn with each other…
And START being stubborn
at the

critical things

that make
both a farm and a farm family successful!
In my one-day "Farming with Your Stubborn Family" workshop, I'll give you ten of my best ideas addressing topics such as:
How do you get a family from butting heads to pulling in the same direction?

How do you balance work with life?

How do you hold partners accountable?

How do you overcome chauvinism?

How do you reduce anxiety and depression on the farm?

How do you get a farmer who is set in his ways to change?

How do you get a partner to stop being a jerk?

How do you get dad to let go of control and groom a successor into management?

What is the magic trick to doing farm succession?

How do you make farming with family fun again?
I can't solve all of your family's problems in one day, but I can pretty much solve half of them with 10 simple, practical ideas. This is a very practical, turnkey program (book/workbook included), that your family can easily implement on your own the next day. It will help any family evolve how they work together from good to great and turn "stubborn" into your farm's competitive advantage!
We offer Farming with Your Stubborn Family workshop in a group (multi-family) setting, either virtually or in-person format. We invite you to bring all the key partners of your farming operation!
Even if your family gets along fantastically…anything you can do to improve the quality of decision-making skyrockets profitability and makes farming with family fun again!
This workshop will be the one day investment that will double farm profit, but more importantly double the odds of your family still farming together in 10 years time!
"I help stubborn farmers work better together."
Andy "Caygeon" Junkin
Workshop Host
Sneak peek? Have a listen to a recent conversation on the Herd Quitter Podcast and get a gist of what our workshop will be about!
WHAT it IS and WHAT it is NOT
It is about improving how your family works together as a team. It is NOT about pointing blame at any individual!
It's educational, but NOT a lecture nor a sermon!
It's meant to give you ideas you can walk away with and do on the farm yourself. You will NOT be upsold any of my consulting services or anything anyone else sells.
It's meant for the whole partnership to participte, but if "Uncle Bill" wants to sit at the back of the room and say nothing…that is fine, too. We meet you where you are at right now. You will NOT be prompted to discuss personal family matters publicly or in small family groups.
We discuss our unique philosphies about how to have a successful succession, but you will NOT be doing any form of estate planning for your operation.
We GUARANTEE our workshop.
If you don't feel it's worth what you paid for registering within 2 hours,
you can walk out and we'll refund you.
Below you will find a list of our workshops currently scheduled for months of November and December 2022.
Each in-person workshop is brought to you in partnership with an agricultural organization, college, or business. We invite your whole family to join the workshop. Books, workbooks, and lunch are all provided.
Our virtual workshops are online Zoom meetings where we invite your whole family to join in. Virtual means all you need is a computer and internet access. We will provide you books and workbooks to follow along.
All our workshops, virtual and in-person, are done in a group setting. This makes for a great socially dynamic workshop with no one family member feeling singled out.
For a LIMITED TIME, we are also able to greatly discount many of our workshops so please have the PROMO code from your invitation handy during sign-up. Click on one of links below to head on over to Eventbrite and sign-up and checkout.


Grab our book
Bulletproof Your Farm
for free!
This book can be read within an hour and will give you a taste of what is to come BEFORE the workshop!
Get the audiobook you can listen to right now and a paperback we will send right to your mailbox.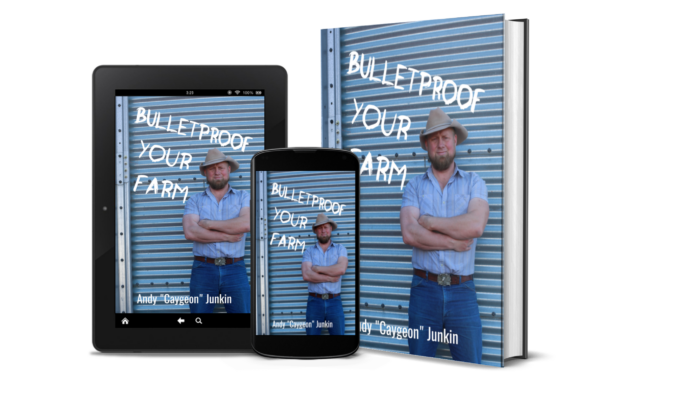 Request for a Workshop Near You
Want to host an event in your hometown this winter?
If you put together 10+ farms, your Ag charity (i.e., FFA, 4H) can fundraise 20% from the door!
Listen to a couple recent conversations on some awesome podcast shows. CLICK HERE for a bigger selection!