Stubborn.farm and its Founder
Who is Andy "Caygeon" Junkin and what is Stubborn.farm?
Formerly known as Agriculture Strategy.
My birth certificate says my name is Mark Andrew Junkin of Bobcaygeon, but everyone else (except my mother) calls me Bobcaygeon or "Caygeon." You can too.
To be frank with you, when I was farming, I would have told you that my niche of fixing farm family business culture is B.S., but I've gone through a lot of B.S. since then and am hellbent to make sure that your family doesn't go through the hell that mine did.
This four-minute video I created last year to prevent farm suicides that went viral explains a lot of my story:
I'm not a lawyer, accountant, or Dr. Phil. I'm just a farm boy who, since walking away from his family's barn in 2007, has been OBSESSED with figuring out how to help stubborn farmers work better together. This has been my only income source since I opened my office in Ontario in 2010, and since marrying an amazing Midwestern farmgirl in 2019, I've been based in Iowa. Initially, my company was called Agriculture Strategy, but we renamed it to Stubborn.Farm to better represent what I do.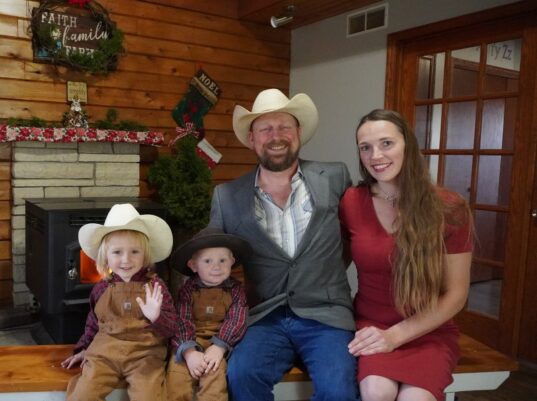 I am widely recognized as the leading expert on farm succession and farm debt turnarounds, having written five books on the topic, spoken in 14 states/provinces, and have helped farmers in 22 states/provinces. While most of my clients are in the Midwest, I work over Zoom and am able to reach farmers down in Mississippi to both sides of Canada, and everywhere in between. I learned from Socrates in College that wisdom is learned by assuming you know nothing. I start my day at 4am, religiously reading 50 pages before breakfast, but I have learned the most through 10,000+ hours of hands-on experience in solving dire situations in 21 states other professionals weren't able to solve. And yet, just perhaps, I may have learned the most from a teenager leading a 4H calf…
As I was mediating a farm family dispute, I happened to peer out the window and saw one of their teenagers leading a 4H calf. At the time, his parents and cousins were in a heated discussion that was leading to them splitting up the farm. This kid milked cows before school every morning and lived to farm, yet his parents were making stupid decisions out of pride, ruining the chances of him farming in the long term. Everyone was blaming everyone else for the farm's problems and expected everyone else to change, but they doubled down, not wanting to change themselves. I thought it was ironic that the farm was bringing out the best out of this teenager, yet it was bringing out the worst in his parents and cousins. I thought how hypocritical it was that everyone expected the kid to see the farm as a learning environment to bring out the best in his character, but as adults everyone felt they knew it all and had nothing to self-improve. Then it clicked – this was the root problem. Instead of blaming each other for problems, farmers need to see the challenges of working with family on the farm as an opportunity to become a better man or woman. We need 4H for adults and this is what I do.
I help farm families stop being stubborn with each other and help each farmer to become stubborn at turning bad habits into good habits to be the partner/friend anyone would want to work with.
Family, farm succession, and farm debt issues are easily solved – once you "fix the stubborn."
I understand any farmers skepticism because there is nobody doing what I do. This is why I guarantee a
300% return through new efficiencies or strategic benefit on your farm, or I don't invoice that month. Instead of doing sales calls, I'd rather spend a couple of hours pro bono helping you/your family after you've taken my masterclass to see if we are a good fit. I'm all about doing and delivering,
not talking about it. Why not sign up for the masterclass, learn a little bit more about my unique philosophy/methodology, and see what I can do in a few hours with your family…